Limited Edition is the next evolutionary step of our private label watch, now significantly improved, even lighter and more robust! First produced using our best carbon fiber-polycarbonate composite as case material. A further highlight is the improved rotating bezel, which now not only features a spectacular new design, but also offers even better grip thanks to the addition of grooves at the outer edge.
The Limited edition can be produced with any betalight colour you prefer. The and very shock-resistant glass, an extra-hardened mineral glass. The proven dust and water resistance of up to 10 ATM / 100 m has of course been retained.
Power saving mechanism with pulled out stem: Reduction of consumption approximately 70%, battery No. 371, resistance to magnetic fields 18.8 Oe, resistance against shock NIHS 91-10, operating temperature 0-50 °C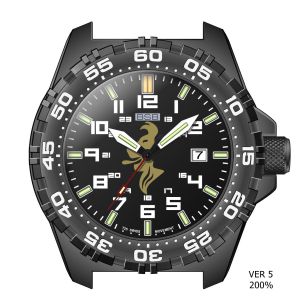 H3 Betalights | The Limited edition watches are produced according to customers requirements
In this particular case, the customer have chosen for the following;
The BSB Limited edition is produced with 16 betalights on the dial.
– 14 blue betalights to represent the blue beret proudly wear by all members of the BSB. the Red lights stands for strength, decisiveness, fiery and passion
Carbon fiber-polycarbonate composite, screwed stainless steel caseback, left turning bezel made of carbon fibre, crown, black PVD-coated.
For this particular watch the BSB insignia with unique numbering, counting from #001 are engraved in it.
K1 extra hardened mineral glass with hardness in 600-800 vickers
Matt black dial with Arabic numerals and date window, 3 hands (hour, minute and second), grey second hand for tactical "to the second" – operations.