All our products are high specification, rugged and

designed specifically for challenging environments. 
A comprehensive range of internal and external military vehicle lights. The suite offers options in normal visible, NVG compatible, NVG friendly and covert technology. We has experience in both night vision compatible upgrades and the provision of interior cabin lighting.The LED lights are suitable for all types of military vehicles including APCs (armoured personnel carriers) and logistics vehicles, both in the new build and retrofit market. The lights are proven in use on major vehicle programmes including the Foxhound in the UK, the BvS10, the Husky and the Eagle. Many lights offer an MTBF in excess of 50,000 providing significant through life cost savings and energy savings when compared to traditional vehicle lights.
Vehicle products include electronic components such as LED panel lamps available in a number of configurations to deliver the required colour and voltage and built to tough military standards. EMI filters ensure electromagnetic interference does not affect the performance of the vehicle and communications.
Lighting options include IR driving lights and convoy lights, these enhance the capabilities of a vehicle whilst operated using  military night vision goggles. The IR light creates a beam at 880nm which illuminates the path in front of the vehicle whilst only having a low NVG signature for covert operations.
A range of cabin lights, the DC combi is available in 3 models offering different levels of functionality and specification. This is a low profile cabin light designed to maximise head room and offer a rugged 'fit and forget' solution. This is a white light with an integrated black out mode; suitable for both new build and retro-fit projects.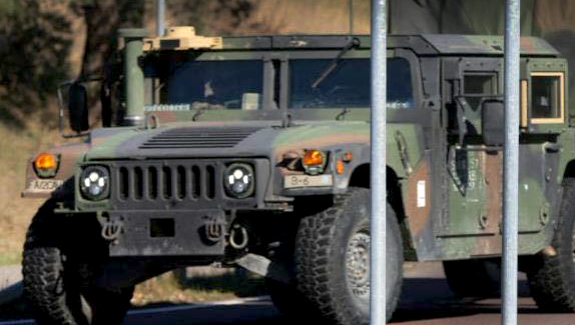 High Power Driving Lights
High performance LED lights giving the operators that powerful punch of light
they are looking for at night, while maintaining the widespread
visibility – lighting things up for both on and off-road.
The Rear Tail Lamp benefits from the added durability, visibility,
and longevity of LEDs to ensure you don't have to worry about it
prematurely failing or not producing enough light.
Black Out Lights
These Black Out Lights are designed for military use only to withstand the demands of the battlefield in terms of durability and longevity.These military lights meet the required performance specs and provide an ideal solution for light assault vehicles or military vehicles because of their reduced size, weight and cost.
Model 93 lights are the new standard for 90mm lights, providing drop-in replacement for original equipment manufacturers (OEMs), up-fitters, vehicle fleets, and individuals looking for the best performing LED lights.
Custom Modular Lighting Systems
The New Standard for Custom Lighting Designs. Custom designs without custom costs & timing.  Avoid high optical tooling costs with a modular system designed specifically for OEM and aftermarket customers seeking unique, high-quality customized vehicle lighting. Ideal for buses, trucks, motorcycles, ebikes, ATV/UTV and RVs.
When you're searching for the most illumination possible, search no further than the Model 623. Boasting bright, white light, the Model 623 has a high-output LED scene light. The most powerful product yet. It is perfect for a wide range of uses, including mining equipment and light towers.
Led Panel Mount Indicators
Panel Mount Indicator Lamps & Panel Mount RGB LEDsPanel mount LED indicators combine the latest in technology with proven mechanical and optical expertise to provide a wide range of products designed for the most demanding of industrial and military applications.
Remote controlled Duo mode (VI/IR) search light
The Model 4600 is newest remote controlled product for the military. The 4600 gives soldiers the capability to use both a powerful LED spotlight and a covert Infrared LED searchlight in the same light.
LED mini floodlights are small, lightweight, low profile LED lighting solutions for new build and retrofit applications. Initially designed and installed in cockpits and vehicle cabins, this lighting is suitable for most interior lighting applications, particularly where height or space is an issue.
Riding safely at night while using Night Vision Goggles is now possible with Covert Convoy Lights. These low intensity lights improve the driver's perception of distance caused and reduce the risk of collisions with the vehicle in fronnments.
DC & AC Combi Cabin Lights
The DC and AC Combi lights are ideal for existing and new built vehicles.
It's design is unique, white light output and a integrated blackout mode
in the desired colour.
The LED Gooseneck incorporates state-of-the-art LED lighting technology to provide a rugged task light designed to meet the toughest military standards. This is an exceptionally bright and highly focused task light with a luminous intensity of 600cd. Sealed up to IP67, high vibration and shock proof.
They are superior to strobes in all areas; smaller, lighter, brighter, more robust and are more reliable. It is very suitable to place IR Beacon Lights on top of tents and hard-walled shelters such as ground stations, communications centres, storage containers and military field hospitals.