Deck Status Light

With an average lifespan of 21,000 hours, the deck status light is designed for military applications and as such has a robust casing that can withstand challenging environments. It is usually installed on flight decks or helipads and can provide an indication of whether it is safe to land. In addition, this product also employs reliable LED technology that ensures lower maintenance time required, as well as reduced power consumption for efficiency.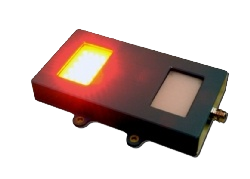 18 – 32V dc input
Sealed to IP66
Operating & Storage temp: -40°C TO 55°C
Low profile
Dark Admiralty Grey Aerodex Paint Finish
MTBF > 21,000 Hours
Dimmable PWM or DC input
Aluminium 5083 outer body
Tested to DEF STAN 08-123 (NES1004)
Extremely robust for marine and military environments
Reduced power consumption
Rugged, reliable LED lighting technology
Reduced through life cost and maintenance
Naval and marine platforms
Flight decks and heli-decks / pads
DO YOU HAVE ANY QUESTIONS?