Trilobyte Helmet Beacon Light Gen2, AUTO SYNCH & AUTO VIBE, Red, Green, White + NIR
Reliable, feature-packed mid-range of our new line of advanced Trilobyte™ Helmet Lights – designed specifically for Military airborne operations. Advanced user-interface organizes a wide range of functions in an easy to navigate system. Features 4 output colors: White, Green, Red & IR.
The Trilobyte Gen2 is the reliable, feature-rich mid-range of the AdventureLights Trilobyte ™ helmet lights. Customizable visual and near-infrared spectra are available to the user in a user-friendly, rugged, compact AA battery light that can withstand extreme environments. The Trilobyte Gen 2 has 4 output colors: white, green, red, and IR. It has a positive vibration feedback (MultiVibe ™) for tactile switch position indication. This allows the user to see the functions in the dark in IR light, or when used on the helmet. When the helmet light is turned on, the first color is always IR, to prevent detection by colored light.
The housing is made of extremely robust and unbreakable polycarbonate. The Trilobyte can be attached to Velcro surfaces with the 3M hook velcro attached to the case back. Optionally, the Trilobyte can be fixed with the separately available modular VIP Pouch or with the Base Attachment attachment plate.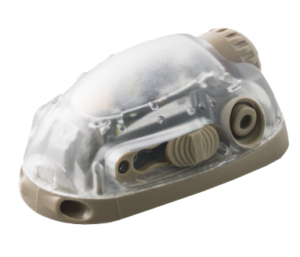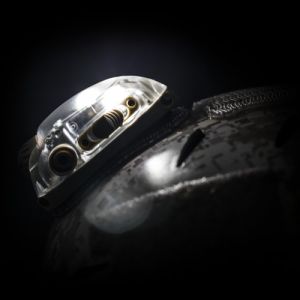 Battery source
One (1) Lithium 1.5Vdc (Type: AA)
Housing material
High Impact Polycarbonate
Dome lens
High Impact Polycarbonate (Textured)
Housing finish
Matte
Storage temperature
-40 to +80°C with AA Lithium; -20 to +80°C with Alkaline or Rechargeable AA
Operating temperature
-40 to +80°C with AA Lithium; -20 to +80°C with Alkaline or Rechargeable AA
Waterproof rating
330Ft / 100 Meters / 10 Atmospheres
Environmental seal
Fully Sealed Unit
Visibility range
Up to 5km on High Intensity (Visual or Near IR)
Weight
2.5oz (72g)
Dimensions
2.21″ (5.6cm) x 3.24″ (8.2cm) x 1.28″ (3.25cm)
Attachment Method
3M Dual Lock (Installed on Base of Unit)
AutoSync™ With Master / Slave Group Syncing
Recorded flashing signatures can be transmitted to other beacons of the same model to create distinct groups of unique, synchronized signatures.
Mockingbird® Technology
Allows users to record and playback their own unique flashing signatures with any external light source containing a near-IR wavelength, including sunlight.
MultiVibe with Positive Tactile Feedback
Product has raised position indicators for easy tactile feedback with fingers in gloves. Product also has vibrating feedback for each position (vibrates once for position 1, twice for position 2, etc.)
Dual Button Polarity Program Switching
Separates groups of functions that can be switched between by holding down the two side buttons for specified periods of time.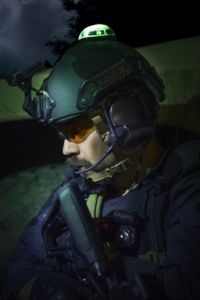 – Control functions Left: Brightness NIR (Low, Medium, High), color selection in visible mode (white, green, red).
– Control functions Right: Main functions (continuous light, flash (48 BPM))., Off.Control functions Left when polarity changes: recording, playback.
– Control functions Right when polarity changes: Constant light, IR detection mode * (sleep mode).* IR detection mode: The helmet light vibrates 5 times and flashes in white for 5 seconds when activated by an NIR wavelength.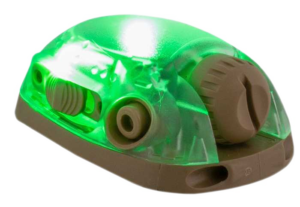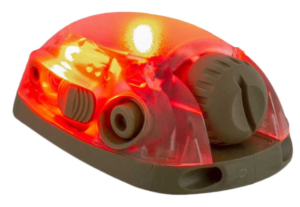 DO YOU HAVE ANY QUESTIONS?