An innovative choice for signage: self-luminous signs and markers. The most energy efficient emergency exit signs currently on the market, these versatile, rugged and durable products are redefining the emergency signage sector.
Betalight's self-luminous line of products is powered by a tritium light source (GTLS) that remains continuously illuminated. Betalight takes the waste product from the production of electricity used in homes and communities and turns it into an important life safety device. Maintenance-free and 100% self-luminous, this line contains products with a useful lifespan up to 15 years. At the end of its life, the materials contained within these products can be recycled. Betalight self-luminous
products meet all applicable fire and building codes, and are available in a variety of finishes that complement any location. Ideally suited for applications where a reliable emergency exit sign is required, the durable construction of Betalight's self-luminous products ensures constant, dependable operation for years to come.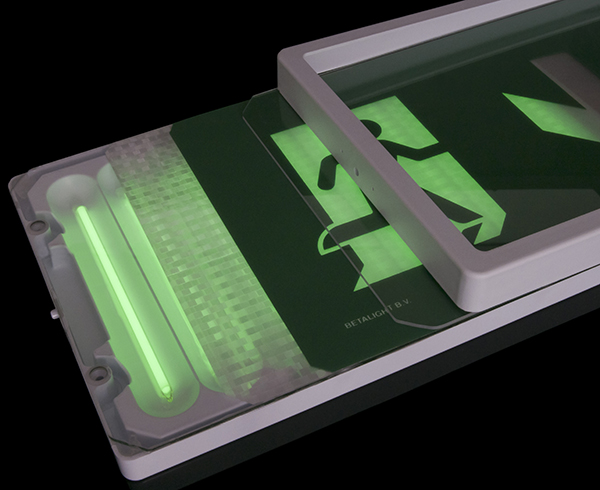 Completely independent

Maintenance free

No external power, no additional light source, no batteries required

Operate in temperatures from -60 °C to +80 °C

Absolutely reliable light for up to 15 years

Operation completely unaffected by immersion in water

No heat is generated

All products are suitable for use in hazardous atmospheres

Legend can be changed in situ
Height : 210 mm
Wide : 325 mm
Depth : 25 mm
Material : Tough, fire resistant ABS
Weight : 800 g
Pendel (30 CM)
Single legends
Betaguard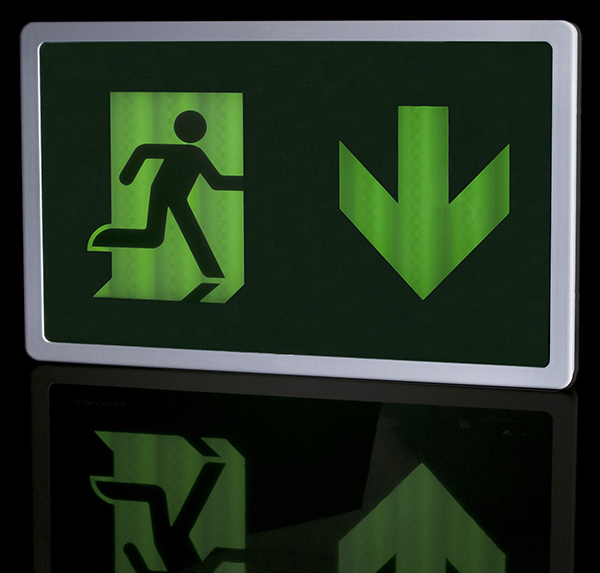 Sign text and legend are clearly legible in light, dark and twilight conditions. Standard products are available to meet a range of international regulations.
A tough polycarbonate enclosure provides a high level of damage resistance. In extreme conditions, accessories are available to increase the level of physical protection.
Remote and non-electrified locations
Hard and soft sherlters and tents

Offshore and structures
Underground  construction projects
Hazardous atmospheres
Inaccessible, remote or saturated environments
Temporary signage on construction sites
Workboats and leisure craft
Petrochemical production and process facilities

DO NOT NEED AN ELECTRICAL OUTLET
Easy to install without the need for expensive cabling, the unit eliminates the need for damage to existing infrastructure. Ideal for monuments and heritage sites,continuous light is provided for up to 15 years.
DO NOT USE ELECTRICAL ENERGY
Used in the aerospace industry for decades, there is nomore energy efficient technology. The bottom line is aconsiderable reduction of electricity bills.
No regular replacement of lamps and batteries. No possibility of defective electronics. No complicated self-test systems.
Due to the lack of electrical components Betalux™ signs can be applied in humid areas such as tunnels, along motorways – even under water if necessary!
ARE TEMPERATURE RESISTANT
The function is not affected by temperature variations.  The temperature range is between -60 °C and +80 °C, therefore very suitable for application in e.g. refrigeration cells.
Causes no EMC interference (think of pacemakers and hearing aids). Not sensitive to EMC interferences from outside. Highly suitable for hospitals and aeroplanes.
ARE TOUGH AND IMPACT-RESISTANT
BetaluxTM signs are encased in tough, lightweight, corrosion and fire resistant ABS and sealed ultrasonically.
For this reason very suitable for application in ships, engine rooms, and aeroplanes.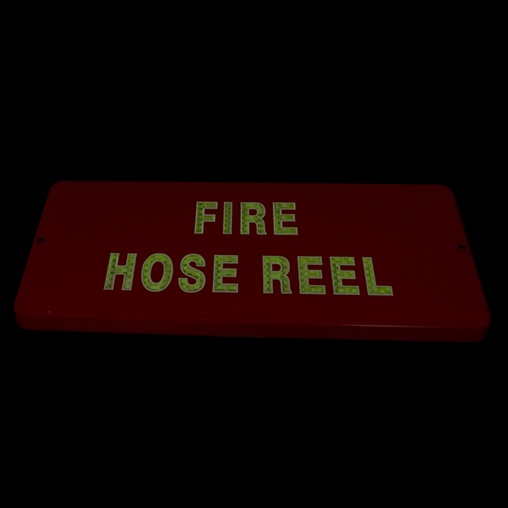 BetaluxTM signs can be delivered with various legends
and in different colours and sizes, also according to the client's wishes.
No electrical components, no ignition circuits. Ideal for applying in explosive  environments, such as drilling platforms, refineries and petrol stations.
CERTIFICATES AND APPROVALS
BetaluxTM signs are manufactured under ISO 9001 and comply with many regulations including: NEN 6088; NEN-EN 7010; NEN-EN 1838; BS-5499 part 2; ANS N540; NFPA Life Safety Code 101 and Directive 92/58 EEG, are UL-listed and permitted by US-NRC and the Ministry of VROM reg. SAS/2001144917 nr. I.A.9.
BetaluxTM signs are approved or tested by Underwriters Laboratories inc. (UL), Lloyds, Det Norske Veritas, TNO,Canadian & US Coast Guard and British Standard.
Reports available on request.
DO YOU HAVE ANY QUESTIONS?