70 mm Bi-LED 850 / 940nm
Infrared Low beam, High beam

Specially developed optics make the light, even without an infrared filter,  undetectable to the naked eye at typical operating distances. The 940 nm wavelength version is hardly detectable at all because the common glimmer phenomenon associated with infrared is greatly reduced. Detection by first generation night vision devices is also considerably reduced as is identification by smartphones, tablets or cameras. A clearly defined sharp light / dark boundary prevents any glare for vehicles driving ahead.  The high beam is available in two versions 850 nm or 940 nm. Why not make contact if you have a specific question or wish discuss your project.
• 70 mm Bi-LED low and high beam
• 70 mm Mono-LED low beam
• Universal bracket for pipe mounting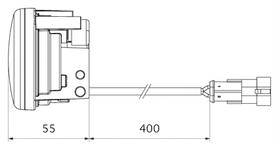 Description

Infrared
Retrofit
Material
Outer Lens Material
Outer Lens Color
Housing Color
Connector
Standards
70 mm Bi-LED-headlight
(infrared loaw and high beam)
Low beam 940 nm – high beam 850 nm
70 mm
Die cast aluminium
Polycarbonate
Black
Black
Connector on request
ECE R10
CISPR 25, level 5
IP 68 / IP6K9K
EFFECTIVE LUMEN ISOLUX CHARTS
Red Lines = Low beam
Blue Lines = High beam
If you are not within the red lines, you cannot see any glow from
the IR-LED low beam even when you look
directly into the light source.
Best performance and illumination is achieved when light is
mounted no higher than 0,8 m

EFFECTIVE LUMEN ISOLUX CHARTS


Illumination from drivers view