Infrared light is part of the electromagnetic spectrum where wavelengths are slightly longer than visible red light and shorter than microwaves, because the wavelengths are around 800nm to 1mm it is completely invisible to the human eye but can be felt as heat. Night vision devices allow you utilise this light using two different techniques, thermal imaging and image intensifiers. Both give you the ability to see in the dead of night.
Thermal imaging cameras work on the basis that everything emits infrared light (radiation) gathering it and producing an image to allow you to distinguish between warm living objects and the cooler environment surrounding them.
Secondly image intensifiers gather all available light photons (visible and non-visible) and converts them into electrons, multiplies the electrons, then through a phosphor screen converts the multiplied electrons back into light photons creating an intensified visible image of the viewed area.
Most image intensifiers also offer an IR illuminating capability which floods the viewing area with infrared light to brighten and enhance the visible detail of the environment, whilst remaining invisible to the human eye. Our infrared identification systems are designed to take advantage of the light emitted from these IR illuminating night vision devices by using military grade reflective materials that send every infrared light photon back to the image intensifier, making more electrons available to be multiplied and converted back into photons to create a intense reflective signature from the product.

Inverted V Infrared Reflective Vehicle Decals
The products transmit a high intensity infrared reflective signature with an IR transmission value of >70% at 835nm. Using an IR capable PVS-14 night vision device items in the product range can be identified at over 800 metres. Thecombat identity products are customised to meet the specific construction, infrared performance and visual signature requirements of our military, security and police clients worldwide.
– Description
– Wavelength
– IR transmission
– Visibility
– Options
– Mounting options
Inverted V Infrared Reflective Vehicle Decals
NIR, SWIR, MWIR LWIR and FUSION
>70% at 835nm
800 meters
Custom size, shape, colours Letters, numbers or symbols
Magnetic, adhesive, velcro, hook and loop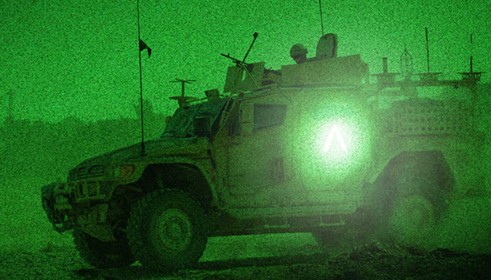 All items can be customized in Shape, size, colour and material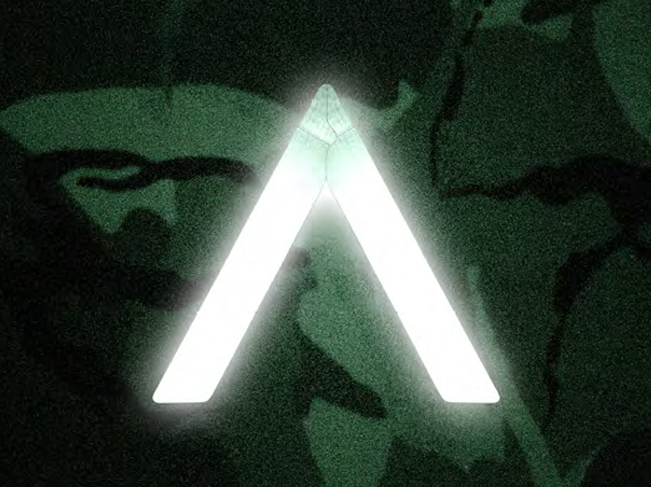 • Self Adhesive Vehicle V's
• Adjustable Neoprene Armbands
• Double Sided Hanging IR Reflectors
• Blood Group Patches
• Uniform Patches and Insignia
• Dual ID Products
• Helmet Schims
• Antenna Markers
The products within the 100 combat ID range have full colour surface detail that accurately replicates any national flag or service insignia. Depending on the optical patterning technique used, a full 100% infrared reflective signature can be achieved. This technique enables the reproduction of vehicle camouflage colour schemes so the infrared vehicle markers appear more subdued in daylight conditions.
The infrared reflective "UpArrow" inverted V marker uses a superior metallised prismatic retro-reflective base material. This produces a high grade infrared reflective signature with a IR transmission value of >70% at 835nm, viewable over 800m using a PVS-14 night vision device. UpArrow markers have a matt diffuse pattern finish on a clear abrasion resistant coating giving superior performance and durability in aggressive operational environments.