Remote
controlled
Duo mode (VI/IR) search
light
The Model 4600 is newest remote controlled product for the military. The 4600 gives soldiers the capability to use both a powerful LED spotlight and a covert Infrared LED searchlight in the same light.
The dual mode searchlights is brighter, shines farther and is more powerful allowing troops to spot any presence of Improvised Explosive Devices (IED's). Built tougher than any model before it, the Model 4600 is designed to work when you need it, where you need it!
Dual Illumination Capability

Hard Wired Dash Control

Programmable Home Button

Weather-Tight Enclosure

Carbon Fiber Body

Separate Stainless Steel Mounting Plate.
Description 23 – 32V DC    Dual mode Vi/ IR

Light output Vi                     320,000 cd

IR                                               940nm

Horizontal                             360°

Vertical                                   180°

Speed                                      Auto engage speed control

Material                                  Carbon fiber

Outer Lens Material          Polycarbonate

Outer Lens Color               Clear

Housing Color                    Black

Min & max Operating
Temperature  -30°C + 60°C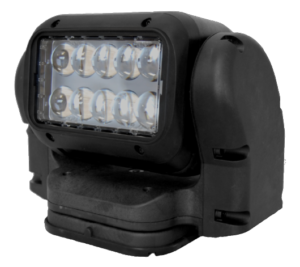 · White LED spotlight: 320,000 candela, 8˚ beam angle, 1,131m max beam dist.
· IR LED spotlight: 940nm, Completely covert, no signature, 8˚ beam angle
Construction Specifications

· Housing – carbon fiber/ ABS blend for high impact and heat resistance
· Fasteners of Stainless steel
· Unit weight: 7 lbs.
Mehcanical Specifications
· Continuous horizontal rotation; 180˚ vertical tilt


· Transmission drive pants:

– Vertical – – stainless steel worm gear drive sprocket
– Horizontal- – stainless steel pinion gear with belt drive sprocket
– Motors – – Commercial grade 28VDC
– Max torque: 2708 in-oz
– Max momentary torque: 83.3 in-oz
– RPM- 64 at 17 in-oz load
– built in varistor


– 50:1 reduction ratio
· Input: 23VDC- 32VDC with surge protection


· 1.3 amp draw @ 24VDC
· Panel mount with 6 attachment points

· 4 way direction joystick with auto engage 2 speed function

· Waterproof Master power switch

· 3 position rotary switch for white/off/IR selection
· Stainless steel mounting plate- surface mounted with installation hardwire


· Mounting plate attaches to unit base with provided screws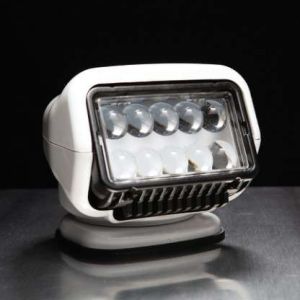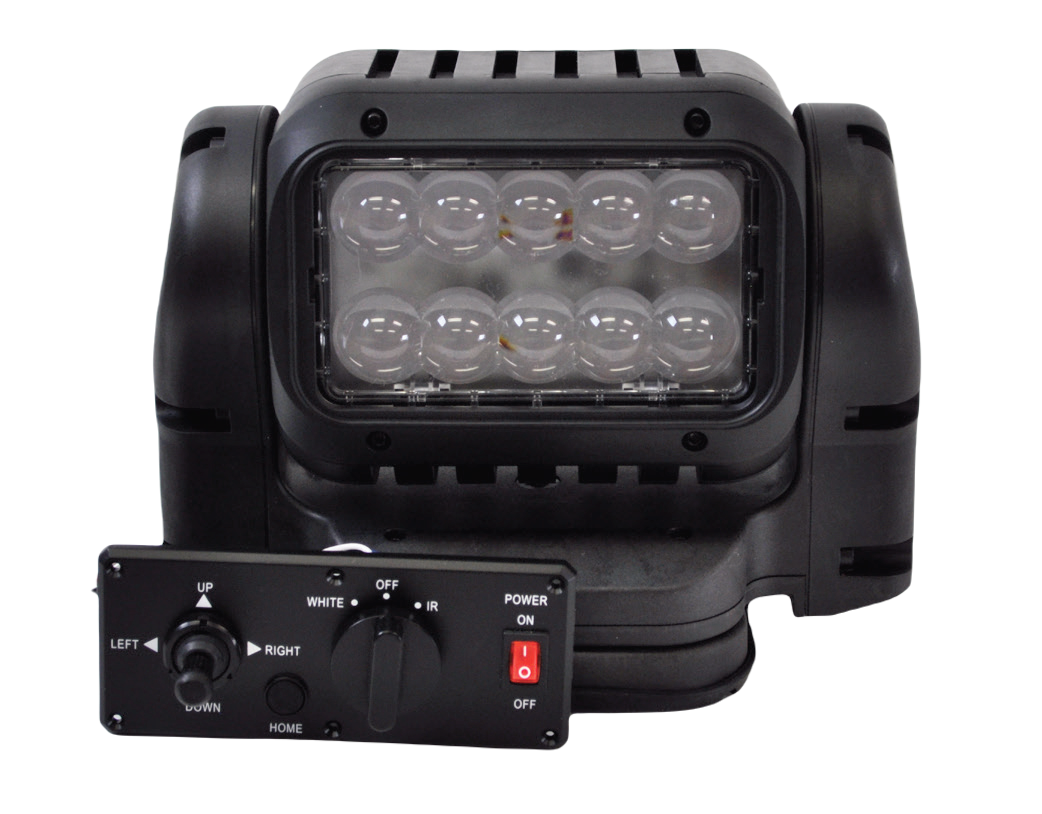 · Molex MX-150 waterproof – 8 position


· Harness – 7.meters length, 8 wires, 18 / 20

AWG
· Electromagnetic Compliance (EMC) – meets MIL-STD-461G

· Temperature – operational range from -30C to 60C per MIL-STD-810G

· Shock- Subjected to three 20 g, 11 ms saw tooth shocks in all three axis per MIL-STD-810G, 516.6

· Vibration- Subjected to power spectral density of MIL-STD-810G 514.6 Category 20