18 

Light Landing Zone Kit
All encompassing portable 18 Light Landing Zone Kit. Controller and Repeaters allow for maximum range and flexibility.  Contains 18 VIPIR™ SMART Beacons which feature 5 output colors: Red, Blue, Green, White and IR. Beacons can be activated either manually or remotely. 6 Remote Frequency (RF) groups are available to remotely activate into different outputs and flashing patterns. Beacons set to the same RF groups will flash in unison. Controller can reach beacons from kilometers away by using the 3 included Encrypted Signal Repeaters (additional units sold separately should users need more).
Also included are various tripods to raise and adjust all beacons and repeaters, our unique Light Shaping Technology™ beacon shrouds for either collimating or diffusing the viewing angle, Powergrip™ battery caps to upgrade the battery capacity of beacons to two AA batteries – greatly increasing overall run time – batteries and operating instructions, all packed in a durable NANUK™ case and two accessory pouches.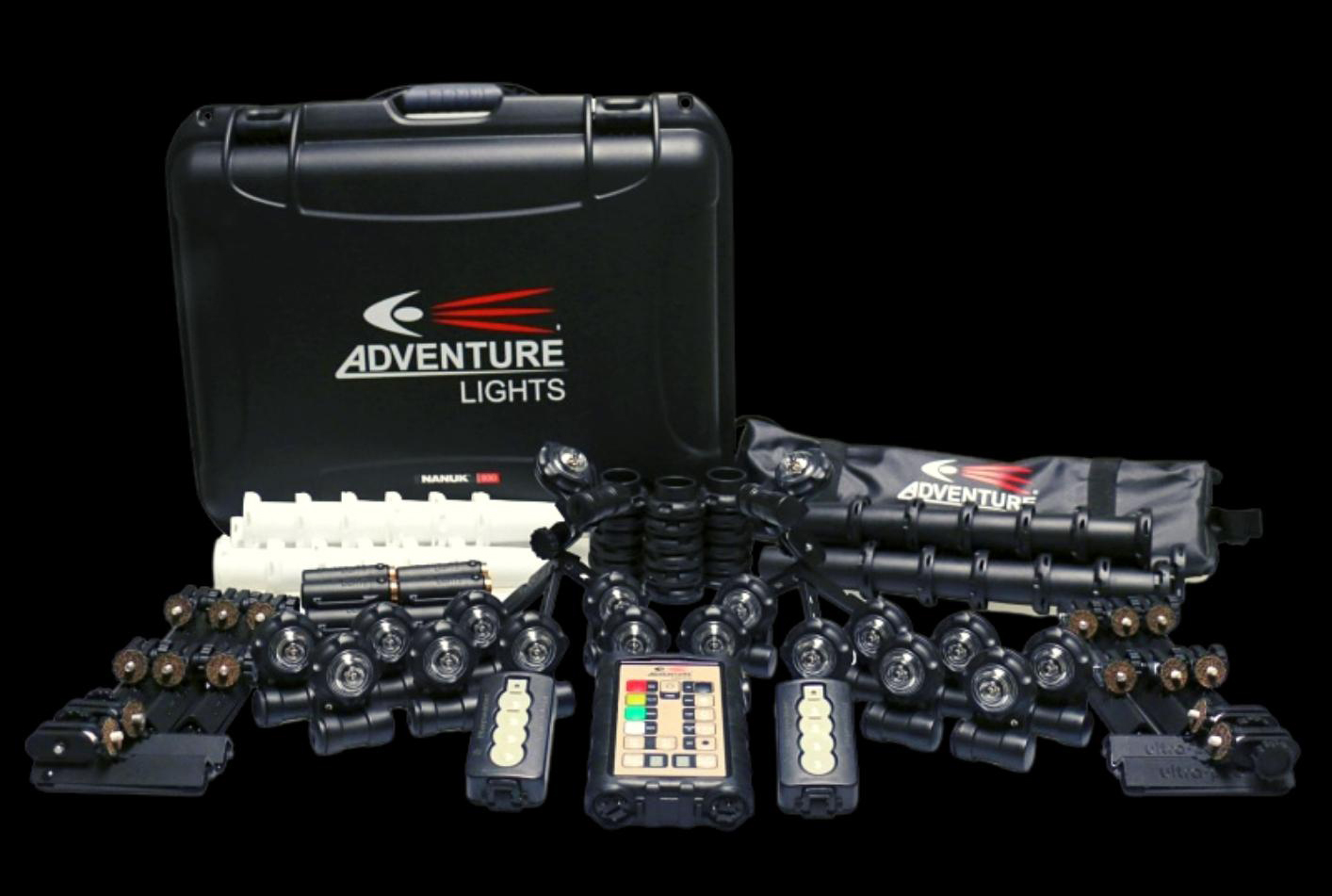 AutoSync Technology
Adventure Lights' AutoSync™ (Automatic Synchronization) Technology makes it so that any nearby VIPs of the same model will flash in sync when set to specific synchronized flashing functions.
Light Shaping Technology (LST)
Our unique patented shields and diffusers, for either collimating or diffusing light output, allow you to get the most visibility to your personnel while maintaining covertness from others.
Patented Omnidirectional Optics
This lens design fully optimizes the product's emitted viewing angle, giving it a diffused radiation of 180°. The effect is very potent. Units incorporating this technology are highly visible when activated, and are equally ideal for area illumination.
Reverse Polarity Program Switching
Our pioneered, unique and patented Reverse Polarity Switching® allows our products to double their useful features while helping to maintain our waterproof and durability credentials. By simply flipping the battery over, additional features are available. Based on the model, Reverse Polarity Program Switching® can be utilized for different purposes. For some products, through our Mockingbird® feature, the user can program unique signatures with the programming settings separated from in-field functions. On others, overt (visual) and covert (IR) functions are separated to prevent accidental identification. The possibilities are nearly endless. Please see each product's specifications or simulation to experience Reverse Polarity Program Switching® on the product of your choice.
S.M.A.R.T Beacon Technology
Relays encrypted information over a self repairing ad hoc mesh network allowing for reliable communication between beacons, repeaters and controllers. Our Synchronized Mesh Autonomous Remote Transceivers are used in our Expeditionary Airfields, Drop Zone and Helicopter Landing Zone networks as well as for C2 (Command and Control) and Identification Friend or Foe applications.
Items Included in the 18 Light Landing Zone Kit
Handheld Controller  1x
Encrypted Signal Repeater  3x
VIPIR S.M.A.R.T Beacon™  18x
Light Diffuser  18x
Light Shield, Long  18x
Light Shield, Short  18x
Powergrip™ Adapter Cap  18x
Tripod Mount Assembly for VIP  18x
Tripod Mount Assembly for Keyfob  3x
Tripod, 10cm  18x
Tripod, 40-120cm  21x
8″ Plastic Nail  63x
3V 123A Lithium Battery  18x
1.5V AA Lithium Battery  46x
Accessory Pouch  2x
NANUK Carry Case  1x
DO YOU HAVE ANY QUESTIONS?