Naval lighting for use on patrol boats, hovercrafts and large ships.
The assortment includes a full range of navigation lights, cockpit deck landing lights, visual landing aids and compartment lighting;
from high risk areas requiring explosion proof lighting to passage lighting.
Lighting solutions for control rooms and bridges, such as task lighting and high specification LED panel lights, are also available.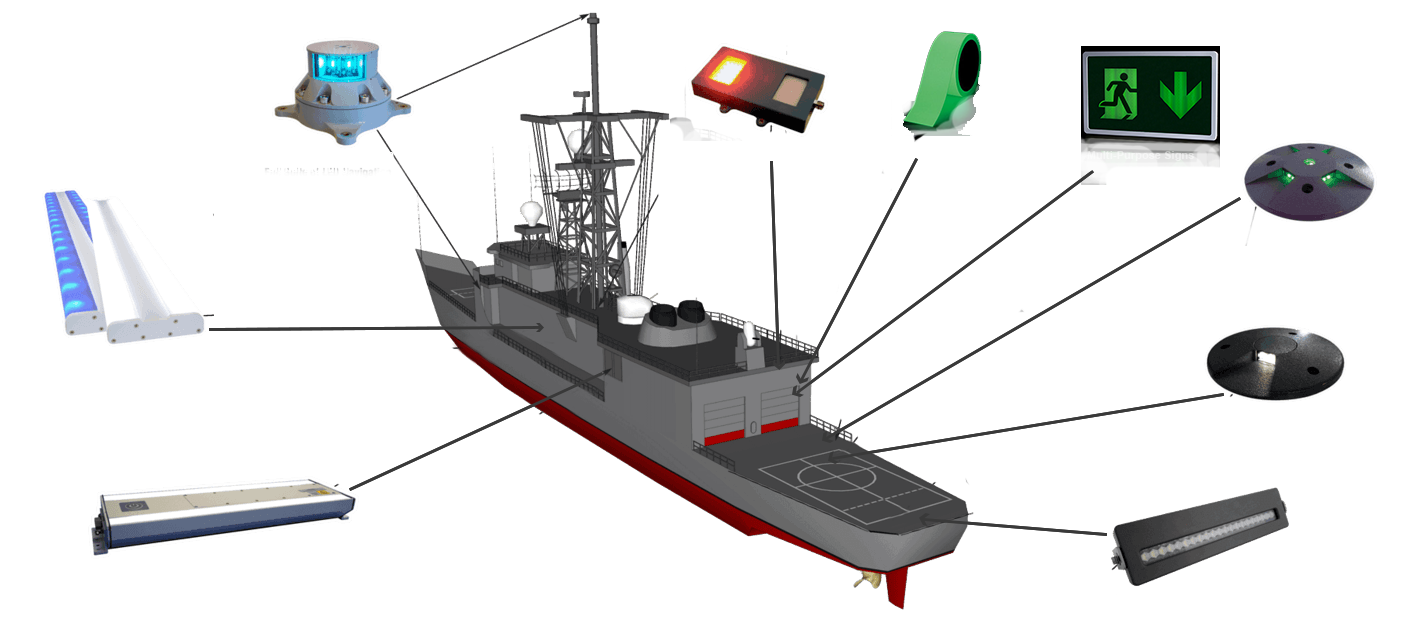 Multi-Purpose Signs

An innovative choice for signage: self-luminous signs and markers. The most energy efficient signs currently on the market, these versatile, rugged and durable products are redefining the emergency signage sector. The signs do not need any external power, no additional light source, no batteries required are waterproof and explosion safe
Glow in the dark way guidance
A simple, yet highly effective product for guiding people to safety in the event of reduced visibility. This self-adhesive glow in the dark products absorbs light. Once it is dark, the product will glow brightly. This process can be repeated for a long time and is ideal for indicating (escape) routes in the dark.

Marine Navigation Lights

The range of LED marine navigation lights has been specifically developed for vessels over 50 metres. The suite contains a full ships set of navigation lights with options available in both AC and DC variants.
A complete LED solution for naval and marine deck lighting requirements. These lights have a maximum height of 22mm and overall diameter of 200mm.  Manufactured from stainless steel, they are designed to withstand passing and landing aircraft on the flight deck.
The lighting systems works as a Floodlight to illuminate the deck surface with visible white light or a night vision compatible green light, ideal for helicopter pilots wanting to land on the vessel. As an alternative to the floodlight, the deck wash light can also be positioned overhead.
With an average lifespan of 21,000 hours, the deck status light is designed for military applications and as such has a robust casing that can withstand challenging environments. It is usually installed on flight decks or helipads and can provide an indication of whether it is safe to land.
Full Suit of interior lights with emergency mode
Full Suit of interior lights with emergency mode including explosion proof variant are designed and built for the unique environment of a ubmarine; offering high IP rating, battery back-up and explosion proof enclosures.
EFL Series LED Area Lighting
The EFL series provides a highly reliable, low profile, rugged & durable area lighting solution which is available in a range of size options. The EFL features are external dimming control and a secondary red, green or blue mode.
Remote controlled Duo mode (VI/IR) search light
The Model 4600 is newest remote controlled product for the military. The 4600 gives the capability to use both a powerful LED spotlight and a covert Infrared LED searchlight in the same light.