A range of products for use in tents and hard-walled shelters such as ground stations,
communications centres, storage containers and military field hospitals.
Military Shelter Lighting
Solutions include the AC Combi light and the EFL flat light; these both incorporate dimming control and a tactical blackout mode.The AC Combi light is a high  performance area light; it is designed to replace fluorescent tubes and offers  maximum power savings. The light requires 30W input and provides 2600 lumens output. The light has a dimming function and optional features to meet all customer requirements from a regular white light to a fully functioning combi light. The unit is specifically designed for mobile shelter and tent applications and meets stringent   standards on EMC emissions, and shock & vibration requirements. The light is also  available with a battery back-up mode.The EFL series offers a high reliability rugged & durable area light, the low profile design is available in a range of size options. The EFL is designed to deliver power savings and improved MTBF over fluorescent tubes  and the units can be used as part of an emergency lighting system. The EFL features external dimming control and is available with a secondary green, blue or red  option.
A unique blended polycarbonate diffuser reduces the effect of 'LED hotspots' producing a more habitable environment. The EFL series is designed to be surface or recess mounted onto a solid substrate for naval or hard shelter applications, or mounted via webbing for tent and soft shelter installation.
The units are designed to be surface or recess mounted for hard shelter applications, or attached via webbing for tent and soft shelter use.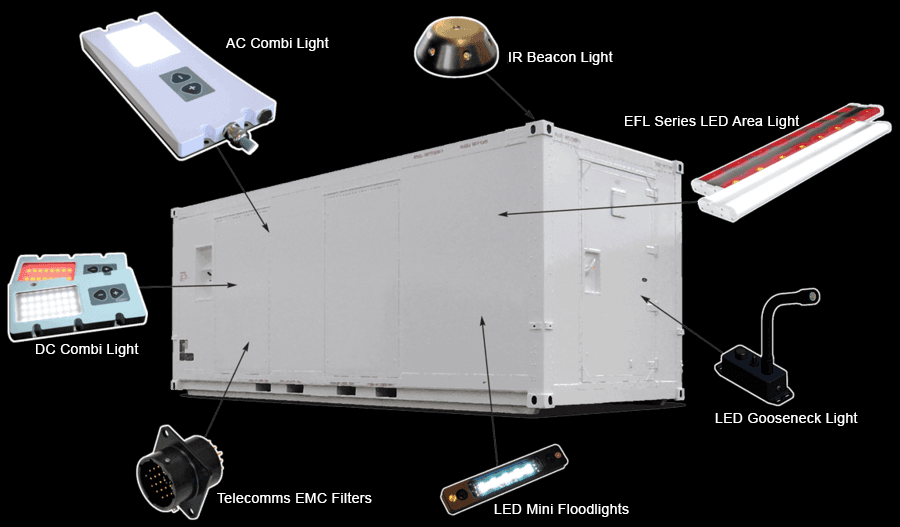 Features of the  EFL Series LED Area Light
High reliability
Rugged, durable construction
Dimmable
Dual colour mode
Sealed to IP56
MTBF 50000 hours
NVG Friendly
ROHS compliant
Designed to meet MIL-STD-461 & DEFSTAN 59-411
Colour temperature 4500-6000K (warm white light version also available)
Case touch temperature max 60°C (140°F)
Operating temperature range -40°C to 50°C (-40°F to -122°F)
Storage temperature range -40°C to 70°C (-40°F to -158°F)"
Multi-Purpose Signs

An innovative choice for signage: self-luminous signs and markers. The most energy efficient signs currently on the market, these versatile, rugged and durable products are redefining the emergency signage sector. The signs do not need any external power, no additional light source, no batteries required are waterproof and explosion safe.
Glow in the Dark Way Guidance

A simple, yet highly effective product for guiding people to safety in the event of reduced visibility. This self-adhesive glow in the dark products absorbs light. Once it is dark, the product will glow brightly. This process can be repeated for a long time and is ideal for indicating (escape) routes in the dark.
Led Mini Flood Lights

LED mini floodlights are small, lightweight, low profile LED lighting solutions for new build and retrofit applications. Initially designed and installed in cockpits and vehicle cabins, this lighting is suitable for most interior lighting applications, particularly where height or space is an issue
DC Combi Light & AC Combi Light

A range of low profile LED lighting to satisfy a variety of requirements for robust, reliable and high performance lighting systems. The DC Combi light is ideal for new build and retro-fit projects. Unique in its design, it delivers white light plus an integrated blackout mode in a choice of colour
IR Beacon Light

They are superior to strobes in all areas; smaller, lighter, brighter, more robust and are more reliable. It is very suitable to place IR Beacon Lights on top of tents and hard-walled shelters such as ground stations, communications centres, storage containers and military field hospitals.
The LED Gooseneck incorporates state-of-the-art LED lighting technology to provide a rugged task light designed to meet the toughest military standards. This is an exceptionally bright and highly focused task light with a luminous intensity of 600cd. Sealed up to IP67, high vibration and shock proof.
EFL Series LED Area Lighting

The EFL series offers a high reliability rugged & durable area light, the low profile designis available in a range of size options. The EFL is designed to deliver power savings and improved MTBF over fluorescent tubes and the units can be used as part of an emergency lighting system